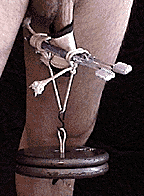 Once you grasp the concept, you can make an AFB anywhere, using almost anything. Yes, those are toothbrushes.
Use your imagination. Have fun!
Using the AFB
Wrap your penis first with a strip of soft cloth, and perhaps a second layer of latex from a cheap swim cap. The AFB is totally adjustable, so it may take a little trial and error to make it work. But once you get it, it really is fast and simple - here's a short video.
General hanging advice
for fastest results, aim for one hour "hang time" AM and PM
Begin with 2-3 pounds (1 kg)
Hang no more than 10-15 minutes, then
remove device for 10-15 minutes
Warm up first? If you insist. I don't bother.
Increase weight gradually.
Stop immediately if you experience numbness, pain, excessive cold, excessive discoloration. When I get it right, I can hang 15 pounds for 15 minutes with no discoloration.
One more thing: while I definitely don't recommend it, it is possible to hang a lot of weight with this simple, cheap device. That's 30 pounds (13.6 kg) you're seeing in the photo.
If this isn't enough information to get you going, please let me know: