Get harder, shoot more? The Ball Zinger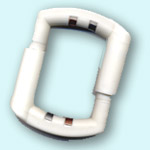 The Blakoe Ring delivers a slight electrical current as a result of holding metallic elements in contact with skin. For an explanation of the concept and background of this device, go here.
I have no interest in trying to convince you that this device works. You can read numerous accounts, pro and con, in Thundersplace Forums. My objective, as with my original weights, was to take a prohibitively expensive (and inelegant) design and hack it for the do-it-yourselfer.
Picking up on a design sent to me, by a guy who adapted the concept of the clunky Blakoe Ring, I created an elastic version I call the Ball Zinger.
As always, I've tried to make a design that almost anyone can make, but this is not as simple as making an AFB hanger. I don't consider my design saleable, but somebody started selling it anyway. Whatever - when you can find noose-based all-day stretchers on eBay, why shouldn't someone try to make a buck off my half-assed design?
You can find a very clever idea on Thundersplace called The .02 Zinger. The developer of this device insists, however, that his device doesn't work.
I don't expect to do much more with this design, but for the benefit of tinkerers, I'll share my latest thinking (2006).

I wore a scrap of 12-2 Romex (house wiring) for several hours with no discomfort. The open ends overlapped at the bottom. Before putting it on, I used a file/Dremel tool to smooth the sharp ends of wire.

To pursue this design, the source of copper should be self-evident: a few (careful) minutes with a blade will expose the copper wires beneath in a couple of places. If the cut insulation is rough, perhaps it can be softened/melted with a butane lighter. An abrasion head on a Dremel may make the process quicker.

You can now sand a penny to create exposed zinc, and figure out how to attach it. I would first cut the sides off the penny and remove rough edges with a file, then attach it by wrapping electrical tape. I doubt there's a glue that would do a good job of holding copper to flexing plastic. To cut the penny, hold it with pliers and use metal-cutting scissors or tin snips. Be sure to wear eye protection when cutting!

Be careful if your source of zinc includes lead - you don't want to put lead in contact with your skin where it might be absorbed.

 (2010: note that zinc wheel weights have been mandated to replace lead in many places - research purity.)
Making a Ball Zinger
Materials
3/8" zinc Corrosion-Inhibitor Rod. Source: http://www.mcmaster.com/ (very pure: lead .06 * iron .005 * cadmium .025~.07 * aluminum .005) | 3" long, item#3606K6 | 6" long, item#3606K1. Shipping very reasonable.

3/8" O.D. refrigerator (food) grade copper tubing. Source: Home Depot

1/4" I.D. latex hose. Source: Lowe's (Home Depot?)
Tools
Hacksaw, file, scissors, ruler. Optional: tube cutter, vice, electric drill
Assembly and use
Use hacksaw to cut metal to length (an inch or more, 2.5-3 cm). A pipe cutter works better on copper tubing; the easiest way to cut the zinc, if you have the tools, is to put the hacksaw blade in a a vice, and the zinc into the chuck of an electric drill - make sure the drill's turning in the correct direction relative to the hacksaw blade or you'll be there for a long time ;-) Smooth the sharp metal edges with a file - or rub them on a stone, cement, whatever.

Use scissors to cut two pieces of latex. You'll need to experiment to get the right fit for you. Mine measure 1-3/4" (4.5 cm) and 2-3/4" (7 cm).

Assemble: Push hose ends over rod and tube about 1/4" (6 mm)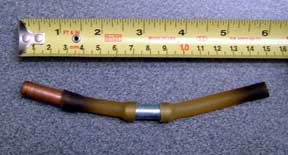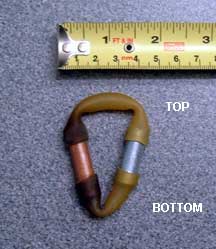 After a while, copper will make the latex tubing look nasty. Eventually you'll need to replace it.
Get it on: you can wrap it above your balls, and then try to get it closed, but that requires considerable dexterity. Doing it as illustrated, first stretch it open away from your balls, so if the latex snaps off it won't snap you in the nads. Next, use your thumbs to push balls through, one at a time if necessary, then roll the zinger off your fingers. It should feel good, but also tight enough that one of your balls doesn't 'escape' if you sit down or squat. Since that can be very uncomfortable, I suggest wearing this only in private until you're used to it.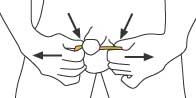 To remove, use your thumb to roll the latex off one of the metal pieces. You can do this one-handed without removing clothing. If you're in a public place and one ball slips through, for example, and you're wearing briefs, you can quickly undo it and just leave it in your underwear until you get more privacy. If you wear boxers, of course, the thing will end up on the floor.

To clean the copper, dissolve some salt in vinegar and drop it in for a few minutes. Use sandpaper to restore the surface of the zinc when it gets dull.

Trimming hair around the sides and bottom of scrotum definitely makes the procedure more pleasant. Use a normal razor and do it in the shower.