This is cheaper, and actually more comfortable once you master it, than the Bib Hanger (www.bibhanger.com).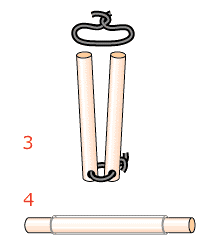 3 To hang weights, you can use the same pieces or cut shorter pieces (~4" (10 cm). Put the attached side back (toward your anus) and close the front side with a loop of wire so the sticks are firmly clamped over the sides of your penis, back from the head (glans).
For comfort, you may need to wrap your penis first with a small piece of cloth or toilet tissue.
Put an ~8" (20 cm) diameter loop of string over the sticks, with one side of the loop over the front of the two sticks and one part of the loop over the back of the two sticks. Bring the sides of the loop down and together at the sides, and hook them to an S-hook and attach your weight.
This requires experimentation to make it comfortable for you.
Start with 1-2 pounds (500 g - 1 kg). Hang for 10 minutes, remove device and rest for ten minutes. Aim for one hour actual "hang time" both morning and evening. Use anything you can find for weight.
4 For added comfort, you can slip a piece of vinyl tubing over the sticks.
If you experience sharp or persistent pain, you're doing something wrong.