Tom Hubbard's 2001 Site
Tom Hubbard's 2001 Site
Other Tom Hubbard Archives
Contents
Penis Anatomy
Manual Penis Enlargement Exercises
Manual Penis Enlargement Routines
Mechanical Penis Enlargement Techniques

Traction
Extreme Uli's and Clamping

Appendices
Measure Your Penis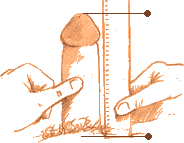 When your dick starts getting bigger, you'll feel it. You may notice it looks just a little different in the mirror. But is it real, or just your imagination? There's only one way to know: measure before you start PE.
Measure erect length: standing or lying down, hold erection straight out from your body. Press ruler against your pubic bone. Measure to the tip of the penis.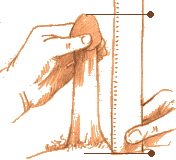 'Dead stretch': measure erect length without erection...hold penis behind the head and pull straight out and measure. Learn how to make this measurement match your erect length.

Measure erect Girth: with a piece of string or cloth measuring tape, measure the circumference of your erect penis at mid-shaft. If you don't have a tape measure, use a piece of string and then measure it with a ruler.
Measure visually: compare your flaccid penis in the mirror with some object that will be around a few months from now - a toilet paper tube or deodorant container. A visual comparison is powerful. You'll know for sure it's not in your head!