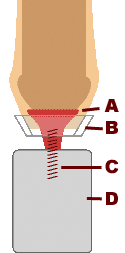 This is a foreskin-stretching with device I made. I have another of the fimo shapes which I use by itself with tape when I need to move a lot, or be in public.
Gravity holds the foreskin in place very well by pulling the Fimo part (A) against a cut-off baby bottle nipple (B), with the foreskin in between.
To make the weight (D), I made a plaster mold of a small cylinder, then melted lead-free plumbing solder in it with a blowtorch. I then drilled a hole in the cool solder to take the screw (C), which I had baked into the Fimo.
Ideas and comments always welcome, Email me at
6a2nudd02 - at - sneakemail.com (cut and paste, replace " - at - " with "@")